Iroquois County CUSD 9 has an approved E-Learning plan that can be viewed here:
If the weather is bad or there is a need to close school, the district will utilize an e-learning day that will not be made up at the end of the year. Please find helpful information regarding how your child will attend school virtually on an e-learning day.
Watseka Elementary Parent Letter
Select your child's grade for e-learning assignments
All K-5th Grade students
On an e-learning day, this website will be updated to show what assignments are given for each grade level. In the event we utilize more than one e-learning day, students will need to continue checking the website for their updated assignments. All assignment pages will be updated by 8:30am on an e-learning day.
K-3rd Grade Students
Clever badges are used to access their online learning. There is a badge included in their snow folder.
There are several ways to access Clever:
School Website
https://www.watsekaschools.org/o/watseka-elementary
Click Parents and Students

Click Student Links

Click the Clever image and then choose to sign in with a badge. You will have to enable your camera to scan your child's badge.
Watseka Schools App
From the Schools Menu: Choose Watseka Elementary (See Image)
All e-learning assignments can be viewed on the app as well.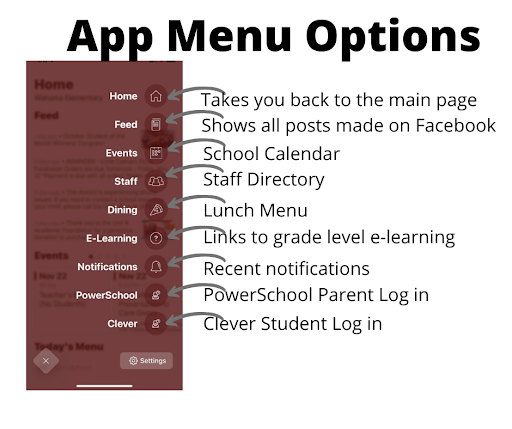 E-Learning Student Expectations:
All students will keep their snow folder in their book bag.

All students will visit the e-learning website to view their assignments.

All students will complete the assignments for the day prior to returning to in person learning.

If there is a technical issue with a device or internet connection, students/parents will fill out the technology help form and ask for assistance. This is available between 7:30am-3:30 pm.
E-Learning Teacher Expectations:
Teachers will keep the assignment sheet update for the website.

Teachers will be available via email and can make phone calls during the hours 8:30am-3:30pm.

Teachers will monitor student progress throughout the day and answer questions.

All e-learning assignments will be graded and put into the grade book in a timely manner.
If students do not complete their e-learning assignments, they will miss other incentive activities to finish their missing assignments. Please see your grade level teacher for specific expectations for making up e-learning work.