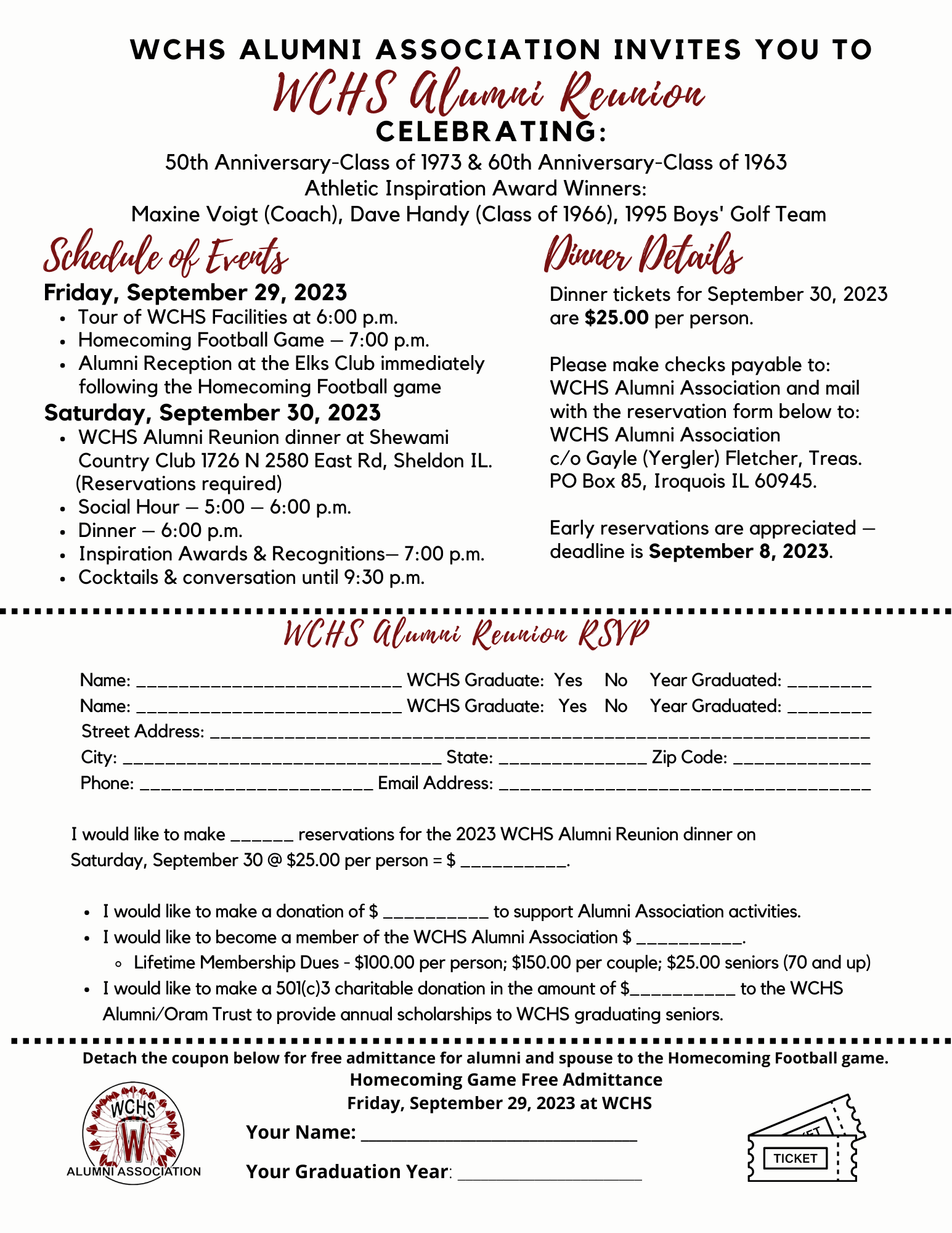 Save the date! WCHS Homecoming weekend will be September 29-30, 2023, with the football game being played on Friday night and the Alumni Banquet on Saturday. Be sure to mark your calendars to join us for a great weekend!
We will send out e-mail invitations so please take a minute to update your e-mail address here:
James K Bruns, President
Kerry Bell, Vice President
Gayle (Yergler) Fletcher, Treasurer
Samantha (Sutfin) Petersen
Murray Schaumburg
Jennifer (Lynch) Dixon
Don Gillfillan
Carl Mooi
Nancy (Lynch) Cowan
Suzie (Patterson) Canady
Troy Simpson
Natalie (Castonguay) Knapp
In 2011, the WCHS Alumni Association began taking steps to become a formal organization that will maintain charitable association with Watseka High School organizations, stimulate interest and relationships of WCHS Alumni and promote activities in which our community can be involved with our schools. This Association has evolved as an expansion of more than 100 years of Alumni Banquets and active Alumni Classes! It is the Association's goal to provide services to alumni and encourage alumni advocacy for the entire Unit Nine School District.
Several of the Association's purposes are listed, but not limited to the following:
promote the spirit of alumni unity by utilizing communications, reunions and other activities through the creation of a formal website and promoting the coordination of alumni activities.

maintain a means of contact between former graduates of WCHS, its former teachers and administrators and those who served at all its feeder schools.

celebrate Watseka Community High School's heritage and promote pride as a cornerstone where quality education leads students to dream and aspire to all that can be achieved through hard work and dedication.

help facilitate and support academic programs, extracurricular programs and other student activities within the entire district.
Membership to the Alumni Association is available through registration on the alumni website and payment of annual dues.
Membership Dues Schedule:
Annual membership dues are to be paid by July 31st to maintain a profile on the website - $10.00

Lifetime membership, Alumnus - $100.00

Lifetime membership, Alumni (couple; husband/wife) - $150.00

Lifetime membership, Alumnus over 70 years of age - $25.00
Membership dues can be paid by check made payable to: WCHS Alumni Association. Mail dues and correspondence to:
WCHS Alumni Association
1411 W. Lafayette Street
Watseka, IL 60970
The Association welcomes all interest and support!
If you would like to become involved and serve on an Association Committee, please contact any of the following:
Mr. James Bruns, President

Mr. Kerry Bell, Vice-President

Any Board Member

Alumni Association Director or Membership at Wchsalumniassoc@gmail.com