Make sure you check out the Back to School Newsletter located on the website and the app. There is a ton of important information in it!! Here are just a few highlight!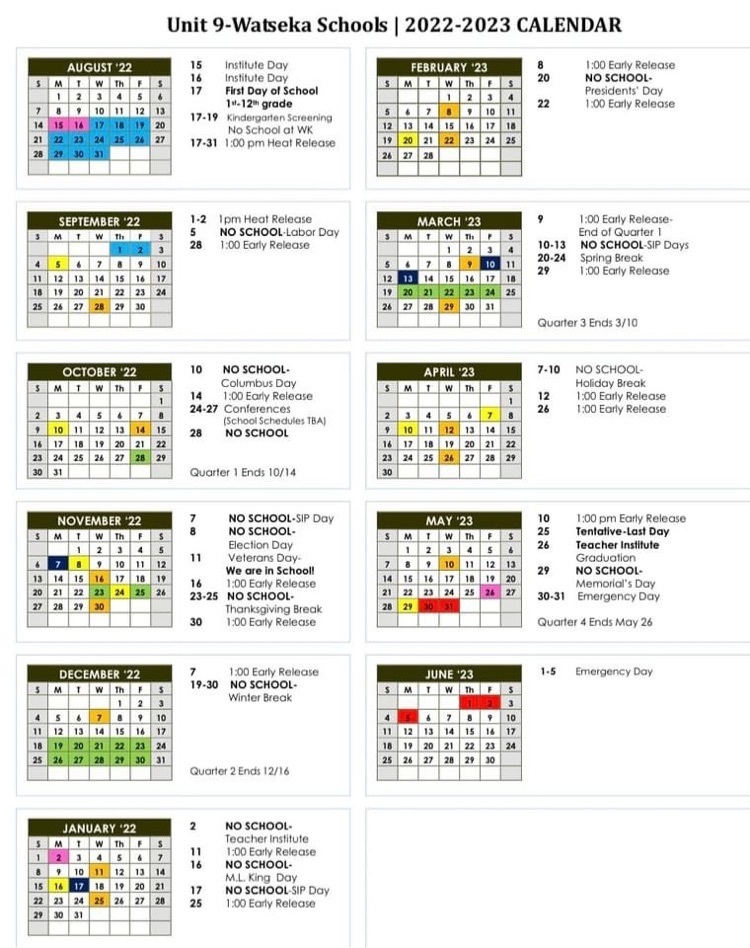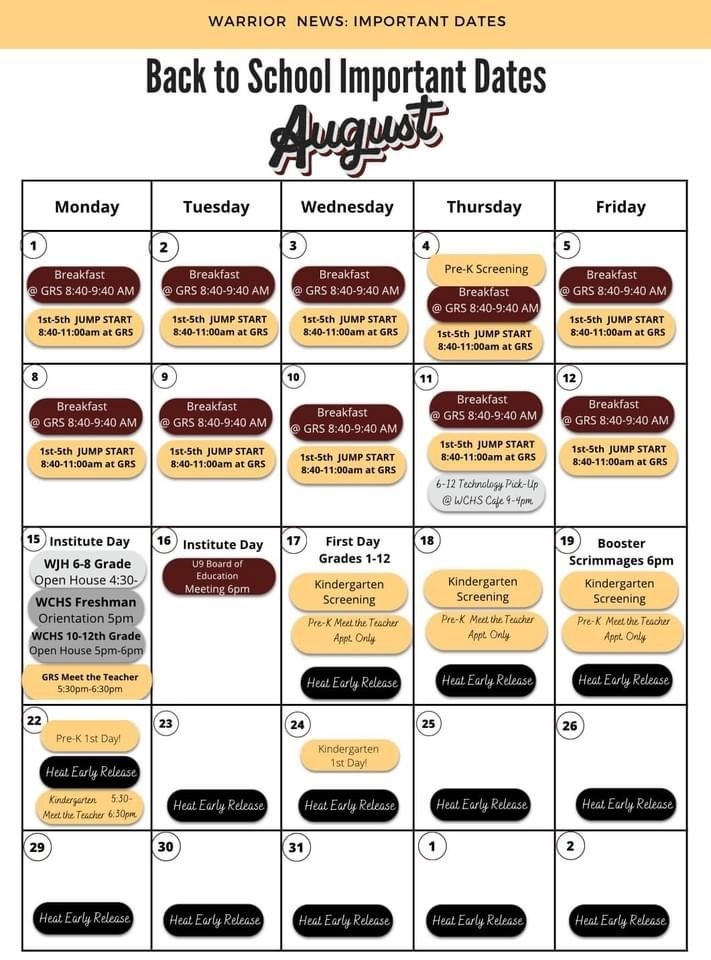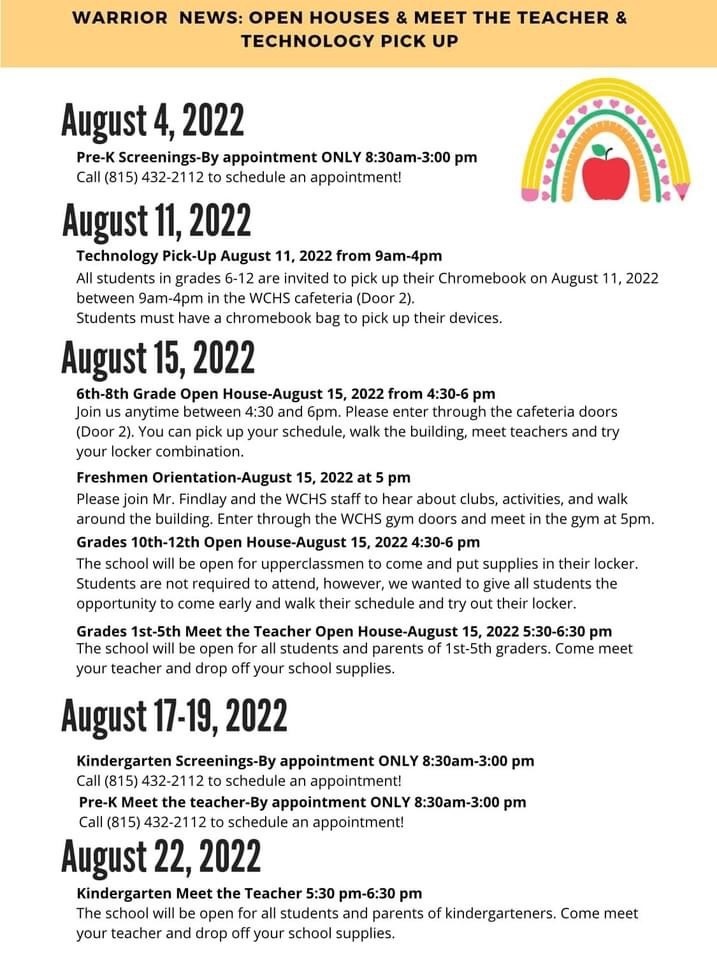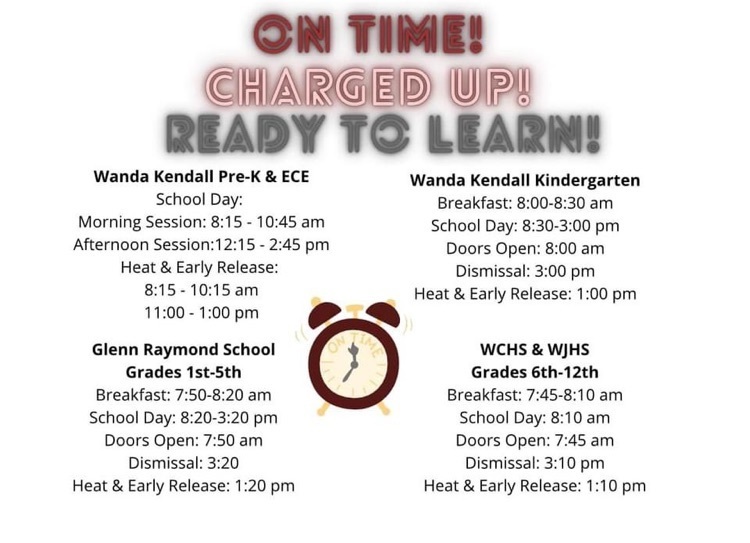 School meals are not free this year. If you've never applied in the past, please apply this year. These applications are about way more than reduced lunch fees. We need everyone to fill out the form because these applications help the district earn funding for programs and supplies every student uses. All Unit 9 families are receiving an application in the mail soon. Please fill it out and return it to
Jami.harris@watsekaschools.org
or drop it off at the Unit Office.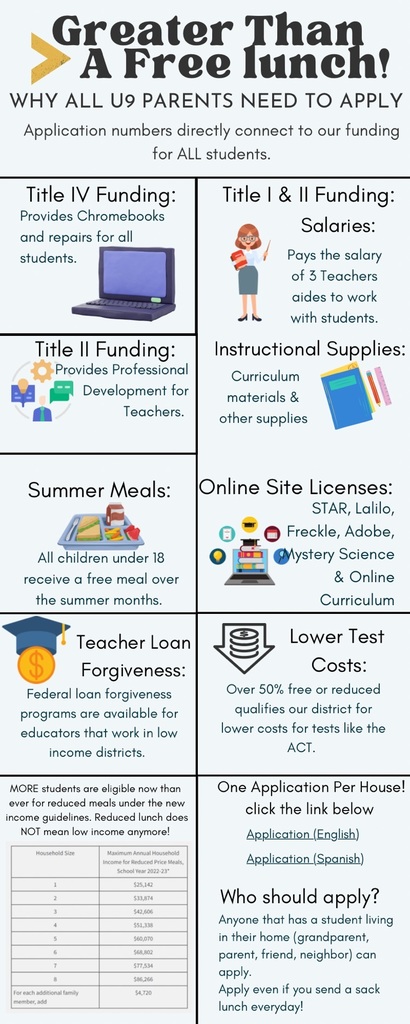 Online registration is open for all students Pre-K-12th grade. Please take time TODAY to register your students! Visit:
https://www.watsekaschools.org/page/registration-information
for more information on how to register. If you would like assistance with registration, please call Jennifer Dixon or your child's school to schedule an appointment. Jennifer Dixon at (815) 432-2115 press 3. Wanda Kendall (815) 432-2112 Glenn Raymond Elementary (815) 432-4581 Watseka Junior High School (815) 432-2115 Watseka Community High School (815) 432-2486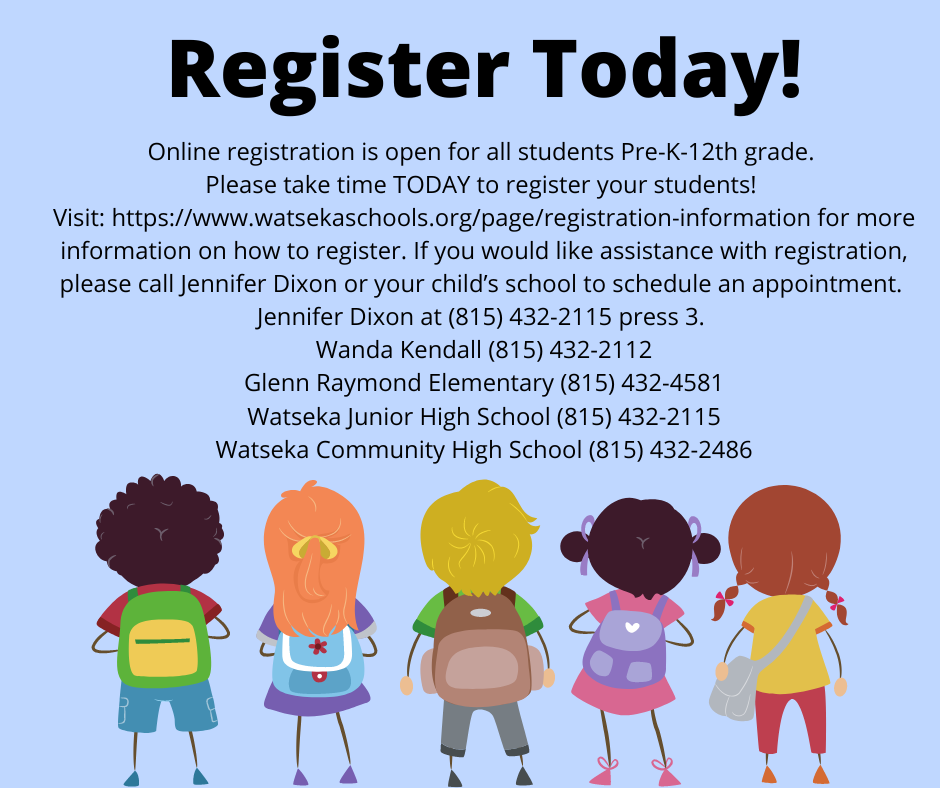 We still have a few seats available! We have reached the 25 person requirement for a discount too! Call 815-432-4931 to reserve your seat today!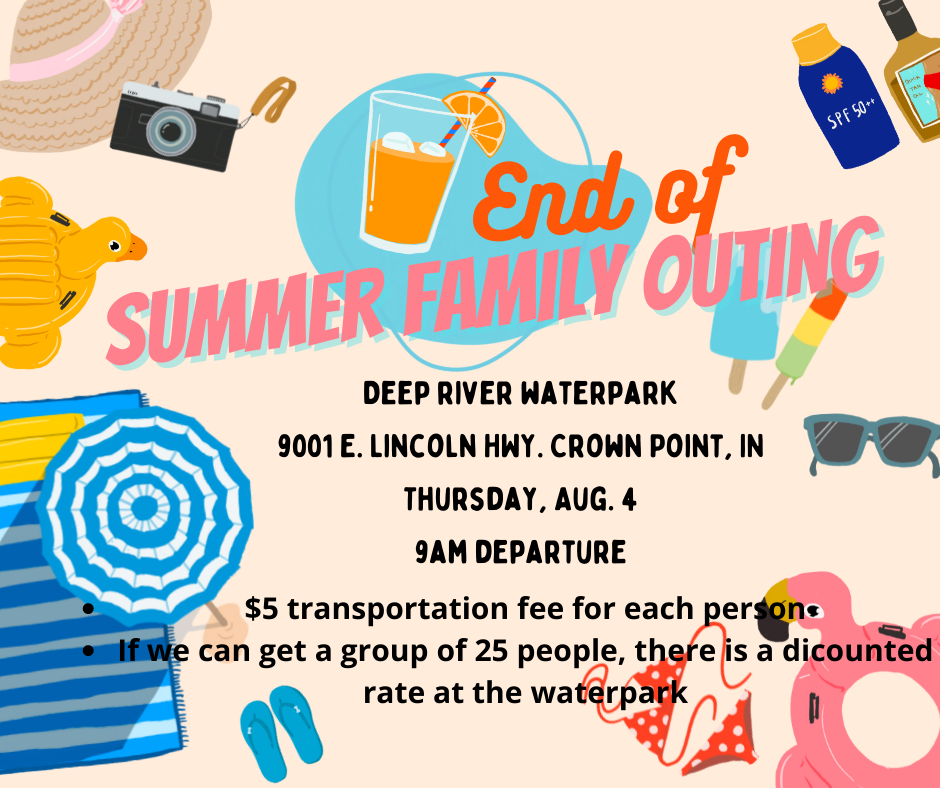 Enjoy a pork tenderloin sandwich on Aug. 5th from 5p-7p. *This is not a Unit 9 sponsored event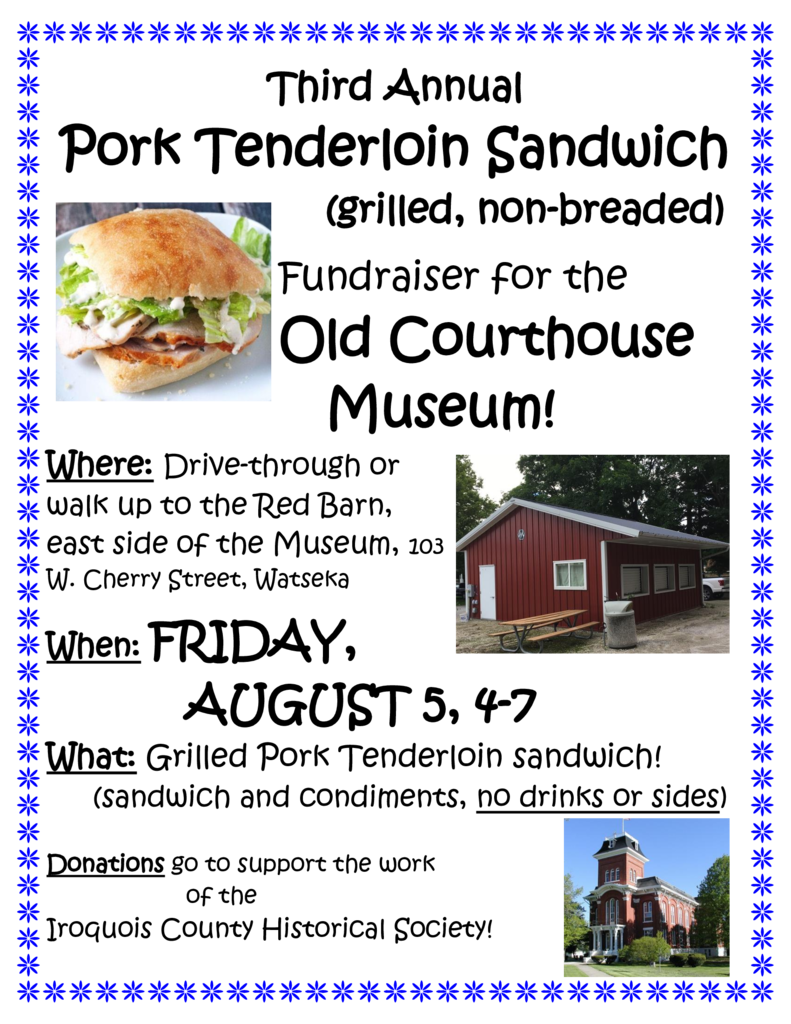 Early Childhood Day at the Farmers Market!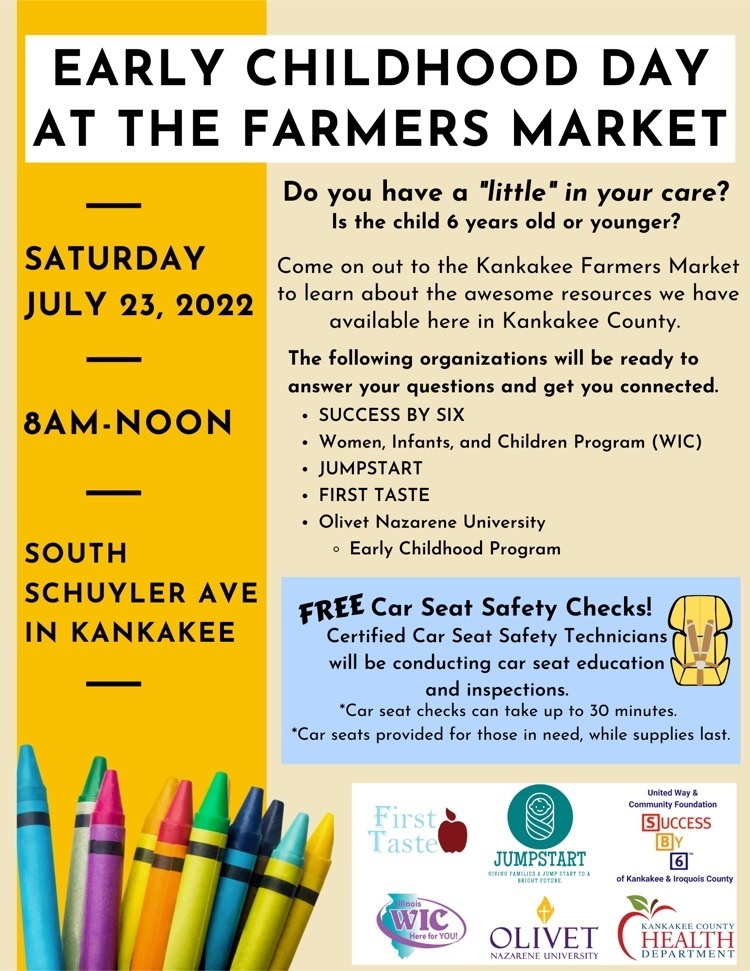 Watseka Kiwanis Club Bags Tournament If you are interested in registering or sponsoring, fill out the attached forms and mail back to the PO Box listed *This is not a Unit 9 sponsored event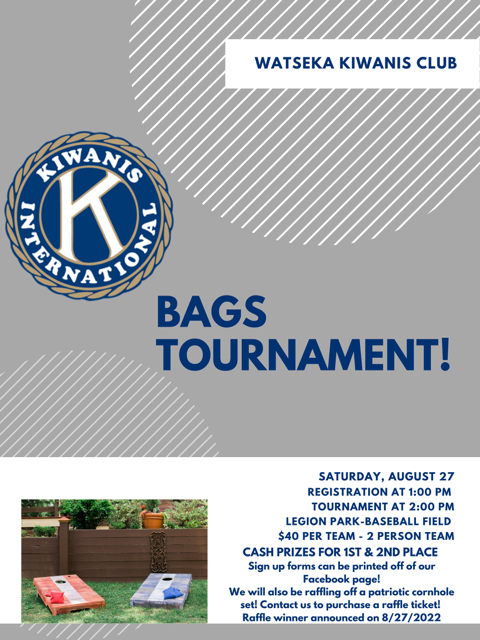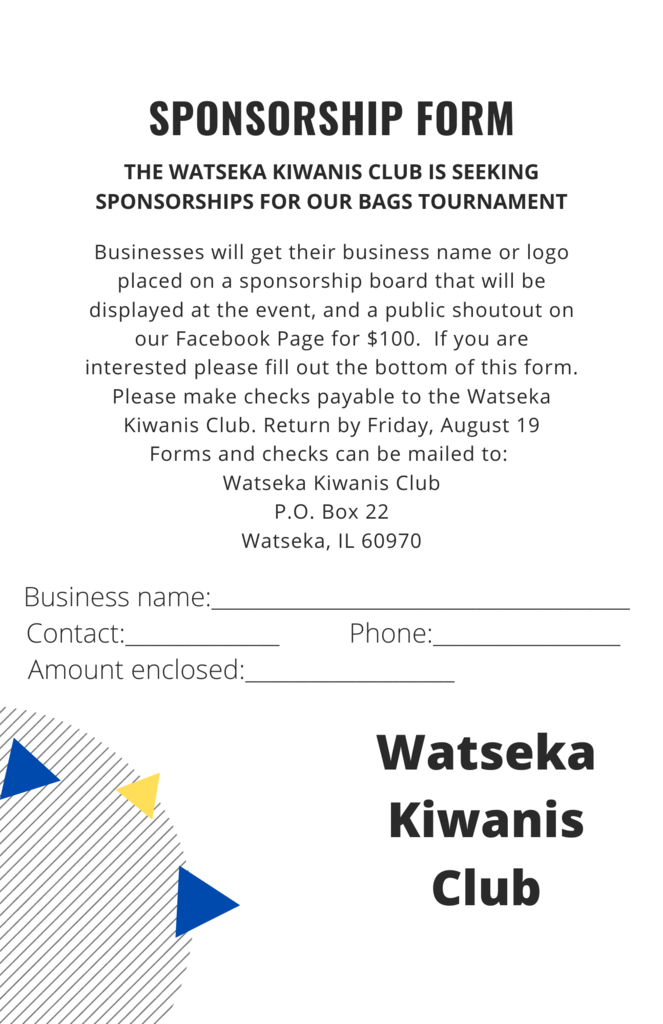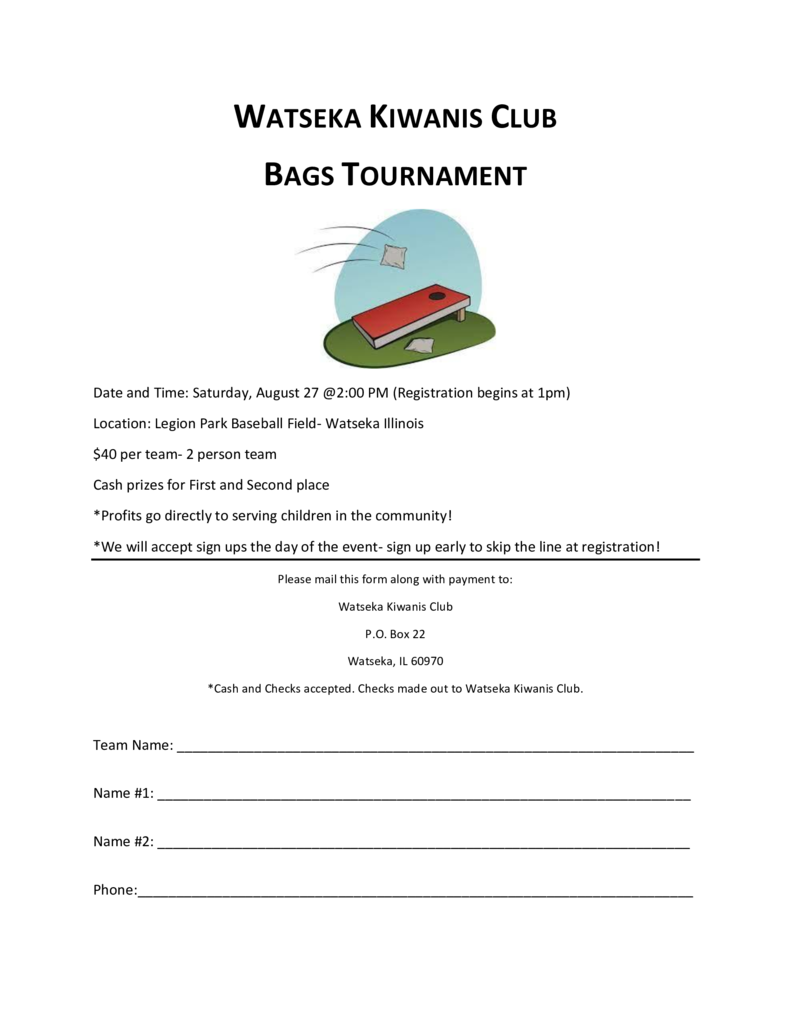 The WCHS Alumni Association is preparing to send out their invitations to the annual banquet. The groups sends out thousands of invitations each year and needs your help to update their information. PLEASE add your contact information to save time and money on postage. They are transitioning to email invites and need your information!
https://forms.gle/7SswncoojA4kNi9S8

Summer Breakfast Program-
https://5il.co/1dbs9
Iroquois CUSD #9 will conduct a Jump Start Breakfast Program for Grades 1-5. Children ages 1 through 18 years of age are welcome to come for breakfast. The meal will be served free of any cost to the children. Breakfast will be served Monday – Friday, August 1 – August 12th at Glenn Raymond School, starting at 8:40 – 9:40 A.M. Children should enter through the East Door off of the black top on South Third Street. The Summer Food Service Program is available to all children without regard to race, color, national origin, sex, age or handicap. If you are interested in further information regarding this program, please contact Jami Harris at 815-432-3891. Sincerely, Jami Harris Food Service Director

Fall Screening- August 4th at the Unit Office in Watseka! This screening is completely free and is the first step for the PREP preschool program. Call Wanda Kendall (815) 432-2112 for an appointment!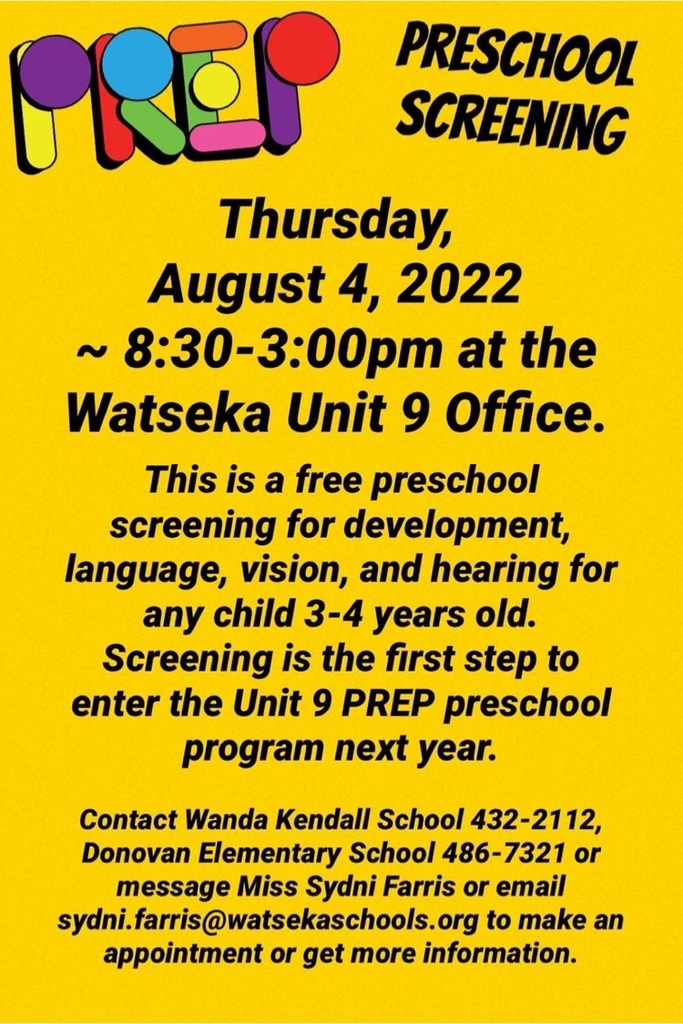 WCHS Class of 2022 Graduation Ceremony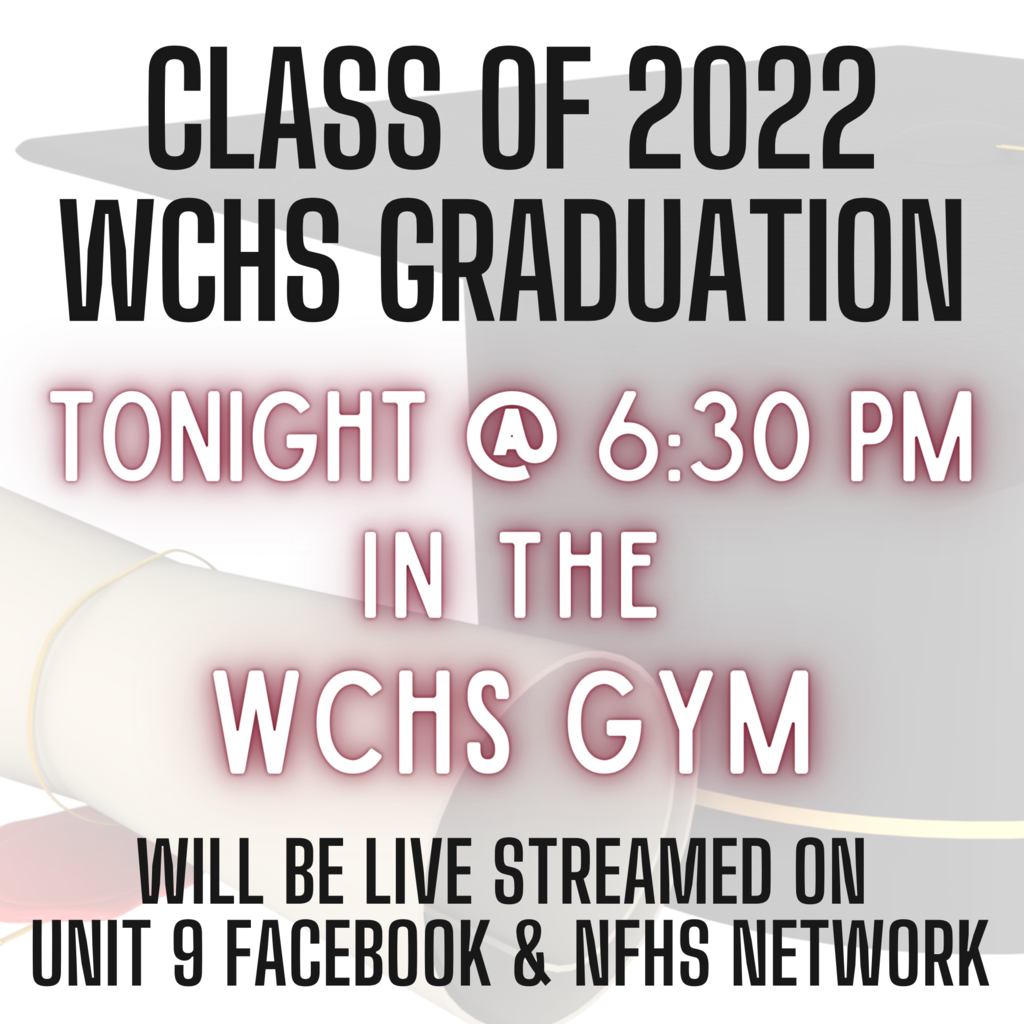 Mother Nature is FINALLY Cooperating!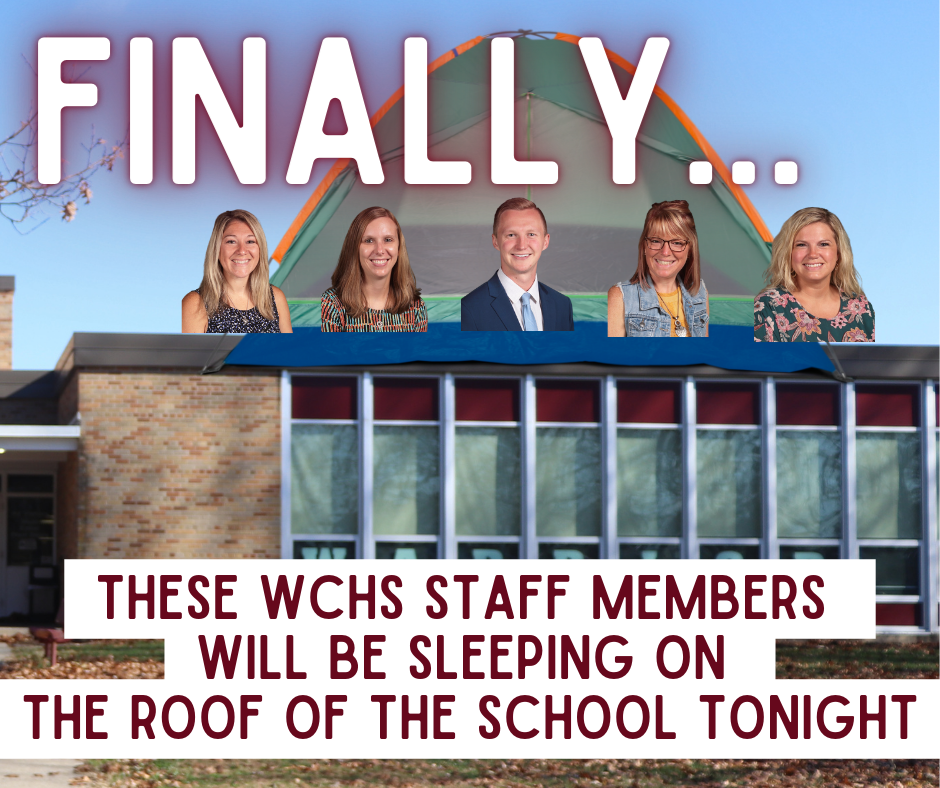 Another Weather Cancellation.... Stay Tuned for the NEW Date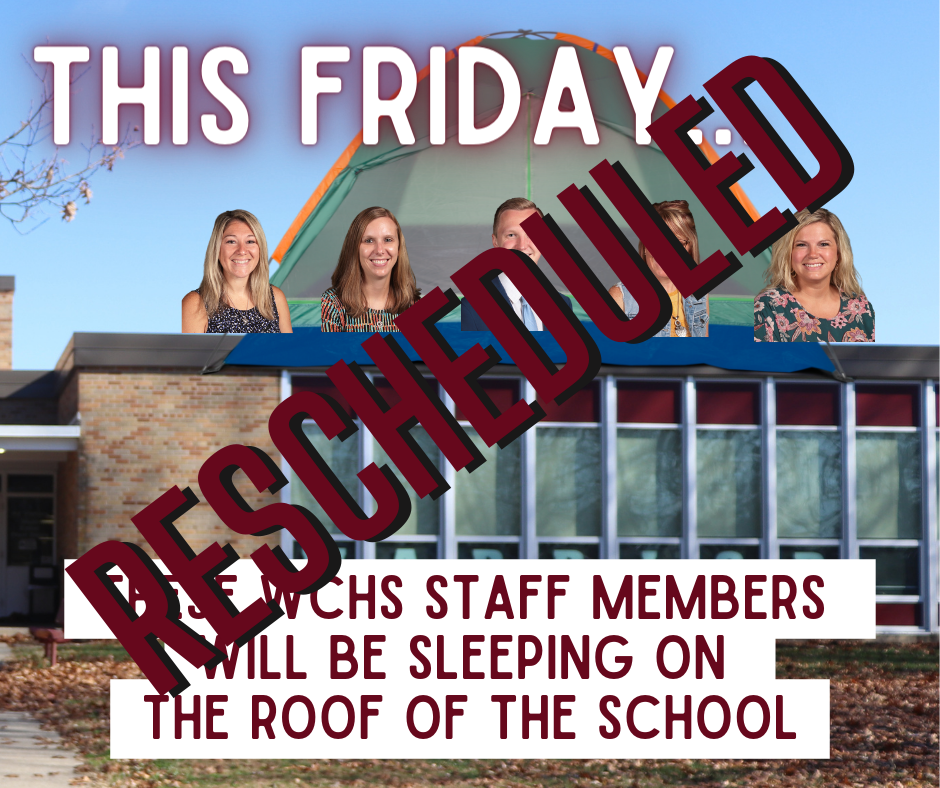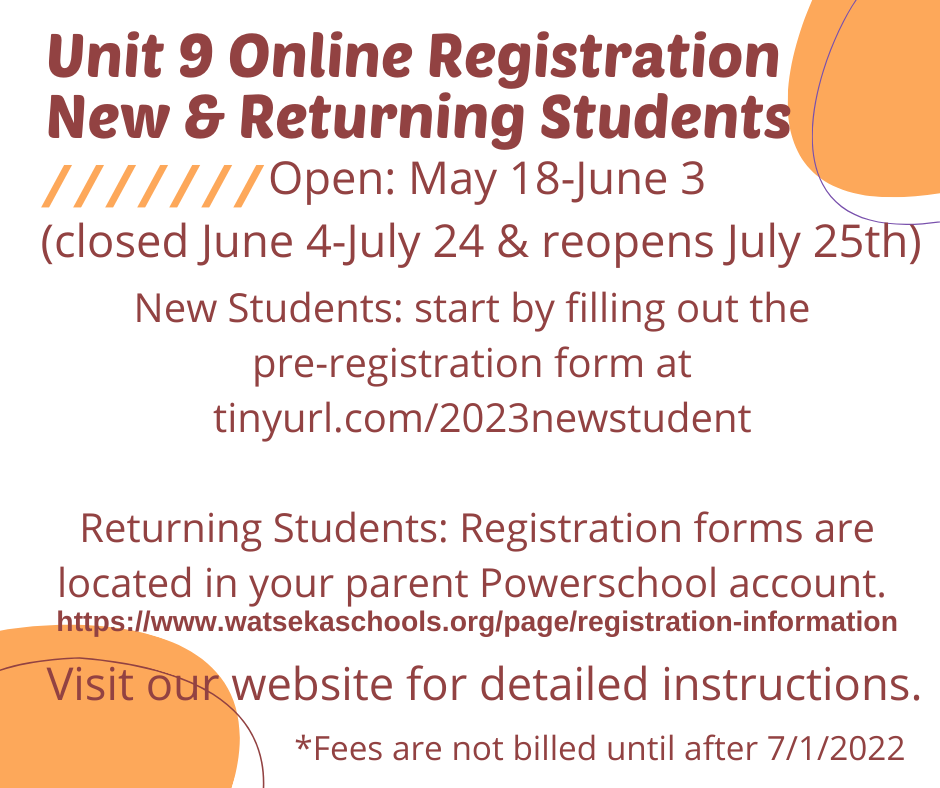 Limited Quantity Available - Adult and Youth. Order Here: tinyurl.com/unit9lastday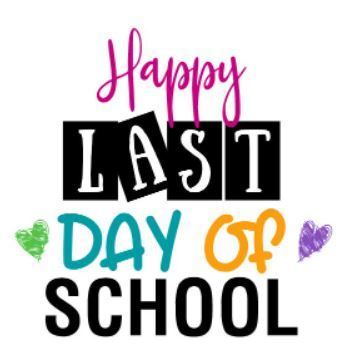 Kankakee/Iroquois County Back to School Fair, coordinated by Catholic Charities, Diocese of Joliet is scheduled for 11am-1pm on Tuesday, July 26, 2022 at Kankakee High School located at 1200 W. Jeffery St., Kankakee! This annual summer event is a major countywide effort to help low-income families access important services to begin the school year on a positive note. This event will be a contact-free drive-through school supply distribution again this year. Everyone seeking assistance with school supplies must pre-register through our online website (starting on May 23, 2022) at
https://catholiccharitiesjoliet.org/back-to-school-fair-kankakee-county/


It's time to register for Kindergarten!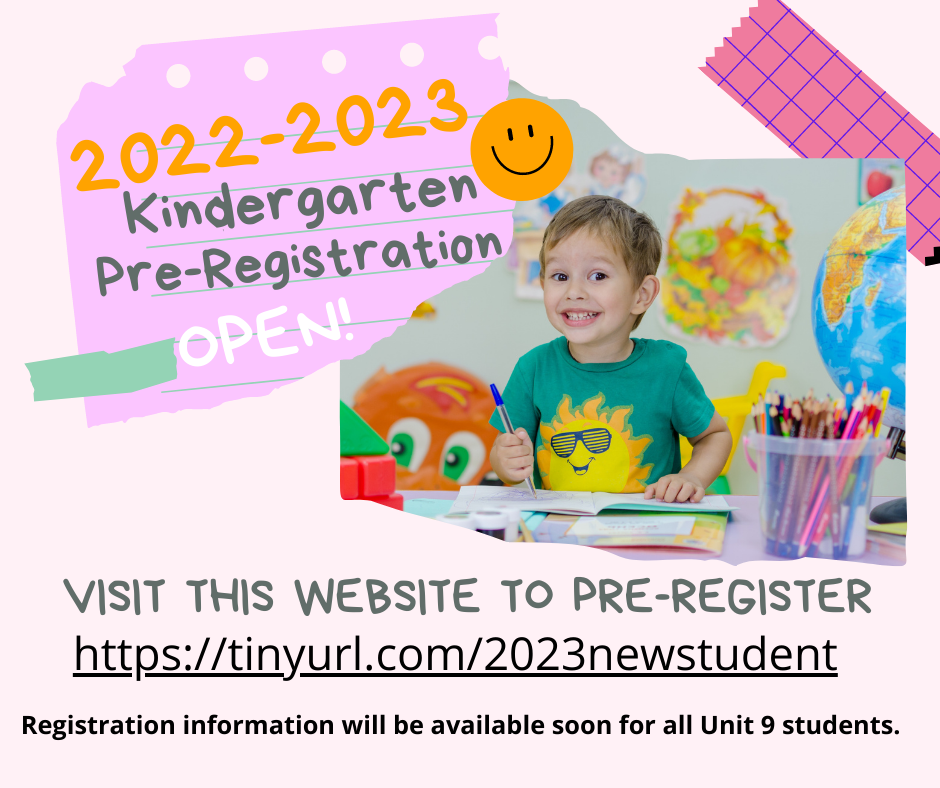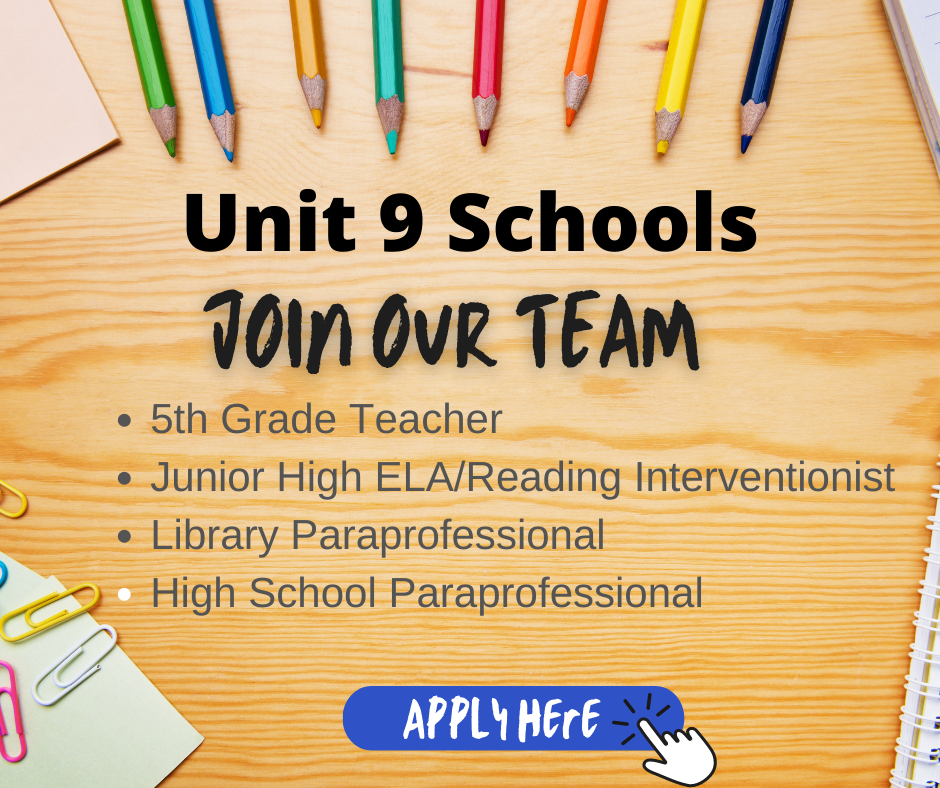 Save the Date - Let Us Cook Dinner For You!